Hemmings Find of the Day – 1960 Volkswagen Microbus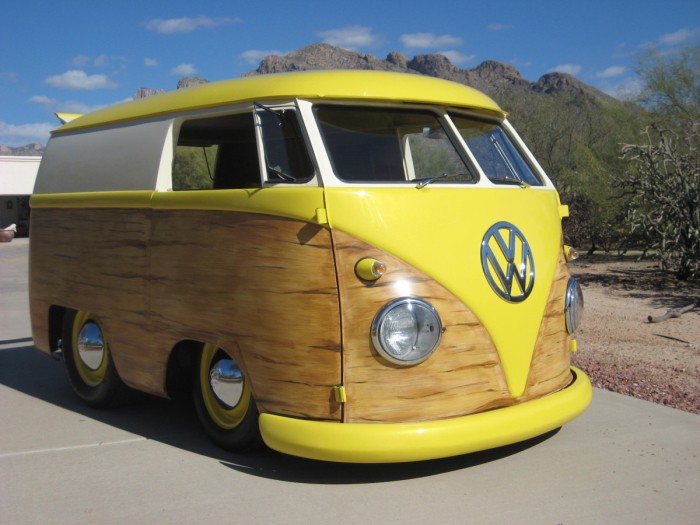 After I got all geeked up about the shorty 1956 Chevrolet last month, I thought I wouldn't see another shorty for sale on Hemmings.com for a while, but now we see that Russo and Steele will be auctioning off a 1960 Volkswagen Microbus that's been shortened to half of its original wheelbase and injected with V-8 power. I may have to go to Scottsdale just to see this thing. From the auction description:
This is an original Arizona rust free VW bus that was cut in half with the side slider door removed and stuck together with pop rivets then displayed on the roof of a local Tucson buggy business. The restoration began when the business went under and the seller acquired the bus. He was a huge fan of Volkswagen and growing up with Cadillacs during his childhood he thought the blending of the two would be spectacular.
He sourced a wrecked 1968 Eldorado with only 62,000 miles. The 472/500 engine, front drive transmission, hubs and disc brakes all went into the bus. The engine is the 500 cubic inch model and the transmission was professionally rebuilt. The original bus had a 94.5″ wheelbase and after the modifications it now rides on a 47″ wheelbase and this awkward shortness was wonderfully massaged into Hot Rod status with the chop. The roof was shrunk down and the window posts laid back along with the wing windows. The door sliders were filled and smoothed and the handles shaved. The rear corners were shrunk and tilted inward and the rear door split into a window and lower engine access. The license plate was lowered and a full rear valance with exhaust cutouts were made.
The 500 cubic inch V8 sits in a custom built 2″x3″ frame with 1 1/2″ full tube back-half. The original VW four-cylinder air cooled 1192 cc engine only produced 36 horsepower so we are looking at a dramatic difference. The Eldorado drive puts 375 hp thru custom built Spicer axles with Eldorado discs to the custom built GM/VW wheels that ride on huge BFG radials. The front VW suspension boasts a narrowed, flipped and air-bagged custom set up. The rear is a tube-built IRS. A ten gallon with dual pumps and fast valve four gaged paddle air ride is at all four corners. Cooling is a aluminum four core radiator. It is fitted with Auto meter phantom gauges, 160 mph speedo,spun aluminum fuel tank with a custom fire extinguisher. All the chrome is new, wiring is 12 volt and it is equipped with a painless gm kit.
The paint is yellow pearl and creamy white. The woodgrain is not a vinyl wrap but it was hand done with thirteen color blends. This bus also has a booming sound system with a Premiere deck with CD, MP3, Alpine amps, Focal mids and tweeters, JL woofer and iPod port. The interior is a blend of suede, vinyl and leather while the headliner is perforated and molded.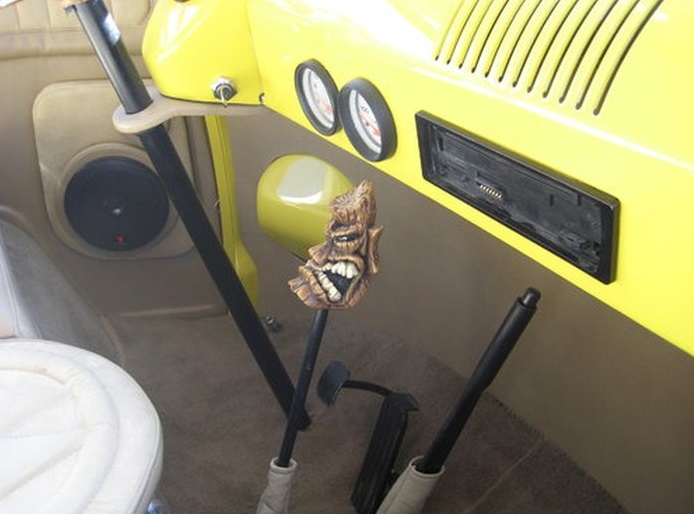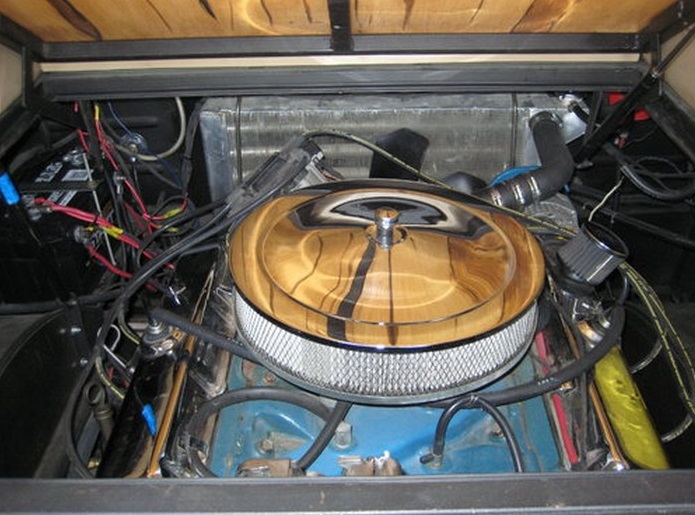 Kindly Share The Surf Love »»