Hurley and Chevy Just Designed a Special Edition Truck for Surfers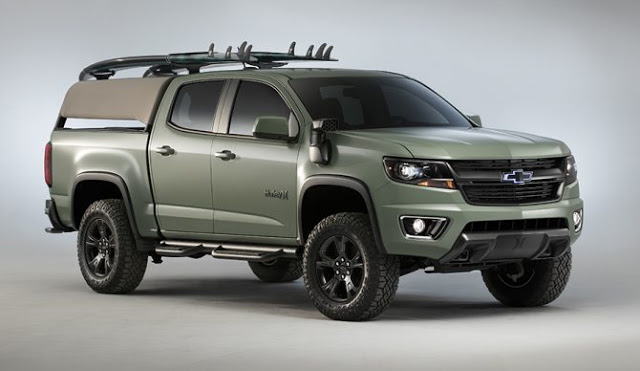 There's no shortage of creature comforts you can come up with to accompany the experience of getting a surfer and his boards to the beach. My own driver's side seat has a white salty ring permanently imprinted in the outline of my body. Sand exists in crevices I'll never be able to get get to, and then there's that whole wetsuit smell thing. Get in a surfer's truck and you'll instantly know, you're in a surfer's truck. But aside from having plenty of space for your gear and hoping for a comfortable ride during the occasional road trip, all the little devices, gadgets and compartments in that van/truck/SUV/surf rig of yours are mostly random little creations of your own – only made because you found yourself without that rinse bucket, the dry mat and that melted bar of wax destroying your upholstery too many times.
When Chevrolet approached Ryan Hurley to create the perfect surfer's truck, many of those ideas popped into his head. So earlier this year the two companies, Hurley and Chevy, started collaborating on the concept they've just revealed at this year's SEMA Show in Las Vegas, a sea foam green Chevy Colorado Z71 Hurley Concept that was designed to be the big wave surfer's dream rig.
"This concept is all about functionality," said Hurley. "When we discussed the project with Chevrolet, we didn't want just a truck with our logo on it – it had to offer solutions for the challenges that surfers face at remote locations and that's exactly what it delivers."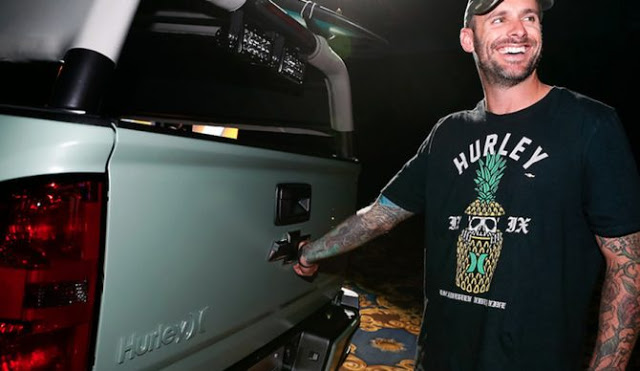 Ryan Hurley, creative director for the Hurley surfing performance and innovation brand, offers a behind-the-scenes look at the Chevrolet Colorado Z71 Hurley concept prior to its unveiling Monday, October 31, 2016 at the SEMA Show in Las Vegas, Nevada. The collaboration is designed to get surfers and their gear around with functionality and style. (Photo by Isaac Brekken for Chevrolet)
So what are the challenges and how does the truck solve them? Hurley says he thought of the athletes on his team and what they would need to build the perfect truck. Kai Lenny was the most logical guy to turn to, because well, he's Kai Lenny and he does everything. So Hurley brought some of the ideas and input from team riders like Lenny back to the creative process. What they came up with was built with the big wave surfer in mind, but we all can relate to simple things like having no freaking clue what to do with that electronic car key when it's time to run into the water, or worse, locking the things in your car. It was a simple challenge like this that the two brands got creative with. The truck comes with a waterproof RFID wristband, which is basically a bracelet you wear in the water that will unlock the truck when waved in front of Chevy's iconic bow tie logo. The bed has a rollout Thule drying rack and storage underneath a custom Bimini-style soft cover and the rooftop racks are simple bungee cord tie downs. For the really adventurous types, the Hurley edition Colorado serves as its own wifi hotspot for keeping tabs on navigation and even wave forecasts. It's a crew cab truck with lifted suspension, 17-inch wheels and all-terrain tires, and the list goes on. Then there's my personal favorite feature: waterproof seats with ventiprene (neoprene) covers for when you're getting in and out of the truck while still wet or that move every surfer's guilty of, leaving the wetsuit on.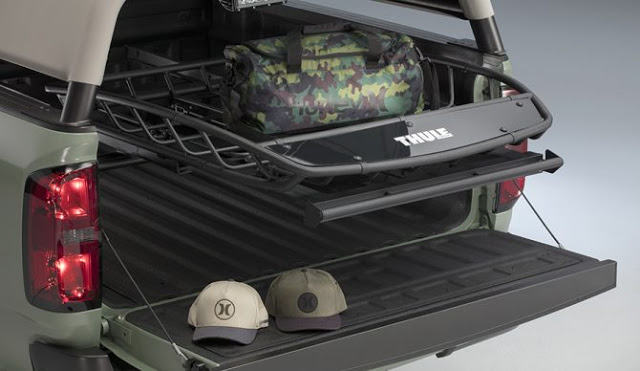 Whether or not the truck goes into production is something we won't know for a while. Colorado marketing manager Jessica Rogers says that decision will be made based on the reception of the concept at shows like SEMA and of course through social media. She also said a diesel model offering 30 mpg could be a possibility if the truck is produced. "We do a lot of projects like this to learn what our customers want," she says. "The SEMA Show is a really good place for us to judge customer feedback. Between our customer bases and the people that are reached through Hurley, we're really going to be paying attention to how people react to this vehicle online, through social media outlets, and just gauge where the interest is." Chevy did this most recently with a camo Silverado concept, which got enough positive feedback that the truck is now in production.
Kindly Share The Surf Cars Love »»